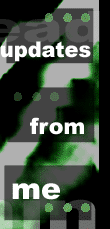 Yes, its archangel without the 'H'.


---
My Blogs

A way to know me more | A glimpse at how my mind works | The world according to me | Rants | My opinion | University Life | Fun | Misery | Frustrations | Happy Moments | Adventures | Soaring high | Freefall


New Chapters (my main blog) | Boggley @ LJ (my LiveJournal account) | "My greatest artwork" (my Multiply account) | the-arcangel's blog (older entries) | JANLEY WORLD (high school years)
---
My Photos

Me | Not Me | Trigger Happy Pics | Barkada Pics | UP Pics | Blockmates | Work | University Life | Childhood Memories | Family


the arcangel's galleries (My Multiply Site, Old Gallery 1 , Old Gallery 2)
---
My Favorite Links
Peyups.com | Mapalad.org | Ebay Philippines | My Friendster Accounts (1 , 2)
Okcupid.com | TipidPC.com | Palm.com | Freewarepalm.com | Smosh.Com


---
Interests
Bird Watching - My ultimate goal is to complete my "life list" of birds. It has been a while since I last went out bird watching though. I have been really busy lately.
Link: Wild Bird Club of the Philippines | My Lifelist (di ko pa nagagawa yung site)

Nature - As a nature enthusiast, I consider it very important to have an adequate awareness of what is going on in our environment. Here is a website made by my friend about endangered species found only in our country.
Link: Endangered Endemic Species of the Philippines Website
Dragonboat Rowing - Great sport + Nice people.
Marvel Universe - Loved the animated series and the comics since I was in third grade. I still know some of their names, their powers. Been rekindling my Marvel memories lately. Thanks to my PDA.
Link: Marvel Universe

---
THIS SITE IS STILL UNDER CONSTRUCTION
2006-05-05